Maternity & Postnatal Active Support Leggings | Emerald & Gold Print
Regular price
Sale price
£50.00 GBP
Unit price
per
Sale
Sold out
On the hunt for maternity gym leggings that are comfy enough to wear all day, but also give you the support and functionality you need for sports and exercise? Forget about simply sizing up in regular leggings (here's why that never ends well!), these mum-designed leggings will tick those boxes throughout your pregnancy and well into life after birth.
Designed for mums and mums-to-be who are always on the move, these squat-proof leggings are crafted in sweat-wicking fabric that stretches and adapts with your pregnant body right up to 40+ weeks, then continues to fit, flatter and support you post-pregnancy. They provide light compression, which can help prevent varicose veins and ease back pain, and the super-high waistband is constructed with dropped seams, so there are no scratchy stitches to dig into your bump or irritate a C-section scar.
The gorgeous emerald-and-gold combination is tricky to do justice to with a photo, but take a peek at the reviews below and you'll see it's loved by many a mama! And did we mention they also feature two deep pockets that will easily take a phone, keys, assortment of snacks or even a baby bottle? Game changer!

Our Latched active support leggings have been awarded Silver in the Made for Mums 2023 awards.
We're proud to be a GOLD winner in the Best Maternity Fashion Brand category of the Loved By Parents awards 2022. 
Why mamas love them

Bump-loving fabric
Our stretchy fabric will grow with your body from the first trimester to the third, without ever compromising on support. It also provides light compression, which can help ease pregnancy back and hip pain, reduce leg swelling and prevent varicose veins.
Perfect for postpartum life
You can wear these maternity gym leggings for as long as you like after your baby is born – in fact, they'll probably become your go-to for everything from a high-impact workout to a stroll to the shops! The high-rise waistband will continue to adapt with and gently control your postnatal tummy, giving you a flattering silhouette and boosting your confidence to simply enjoy moving your body.

Never see-through!
Squat to your heart's content without worrying that your leggings are letting you down! Our fabric is completely opaque and will stay that way through wash and wear. It's also the ideal thickness for preventing VPL and concealing maternity pads or knickers. 
High waistband with dropped seams
These maternity gym leggings sit extra high at the waist to support your tummy throughout your pregnancy and after you've been through labour. The waistband won't roll down or need to be pulled up constantly, and the seams are dropped to sit comfortably low on your bump (they're also strategically positioned so they won't aggravate a C-section scar).

Two large pockets
It's a fact: pockets make life easier. Especially mum life! That's why we've added one at either side of our maternity and postnatal leggings. And the best part is, they're deep enough to easily hold your phone, keys, a muslin or even a baby bottle!

What stage are they for?

These full-length maternity leggings will see you through the Show, Glow and Grow stages of your pregnancy (check out our Bump Guide below for more guidance on the different stages). Most women find they can wear them to 40+ weeks. You can count on them for comfort and support once your baby is earthside, too, because they're designed to adapt to your changing body both during and after pregnancy. 
Show
Generally the first trimester: you're newly pregnant and your regular clothes are becoming a little tight. 
Glow
Generally the second trimester: your bump has 'popped' and there's no more squeezing into your jeans with the hairband hack!
Grow
Generally the third trimester: you're in the thick of it now! You can't really see your toes anymore and baby is very much at home! 
Whoa
Mamas of multiples or those with truly magnificent bumps – especially towards the end of pregnancy. If you're in the 'Whoa' camp, it's likely you'll find our Classic Comfort Maternity Leggings give you a more comfortable fit around your bump.
Postnatal
The fourth trimester and beyond: you've got through labour, your baby is here and you're keen to get moving. You need sports leggings you can count on to boost your confidence and support your post-partum tummy through every movement in comfort.
At a glance
🖤 Designed for pregnancy and postnatal life
🖤 73% polyester, 27% spandex
🖤 Emerald and metallic gold with white logo print at the left side
🖤 Squat-proof, sweat-wicking fabric
🖤 Never see-through
🖤 Light compression for support
🖤 Super-high waistband with dropped seams
🖤 Won't rub a C-section scar
🖤 Full length
🖤 Two large pockets
🖤 Available in sizes XS–XL
Sizing

Use the following size chart to convert your usual dress size to the corresponding size in Latched leggings, shorts and joggers:



Washing & Care

Machine wash at a cold temperature without using fabric conditioner. We recommend using a mesh bag to avoid damage from other items. Not suitable for tumble drying. Please don't use bleach!
Delivery & Returns

We process all orders within two to three days, unless you've chosen an item on pre-order.

We offer FREE standard delivery on all orders over £75.

Our UK delivery prices and estimated timescales following dispatch are as follows:

Standard (Royal Mail Tracked 48) – £4.75 – two to four working days

Express (Royal Mail Tracked 24) – £7.50 – one working days

Our international delivery prices and estimated timescales following dispatch are as follows:

Europe: Import charges included.

Express £22 – two to three days.
Standard: £12 - up to 14 days.

Rest of World: Additional import charges may apply. 

Express £35 – two to three days.
Standard £18 - up to 14 days.

Returns

We understand that online shopping can be tricky, especially with a changing body. You have 45 days to return your order, provided it's in an unused condition with the tags still attached and its original packaging. Read our full returns policy here.
Share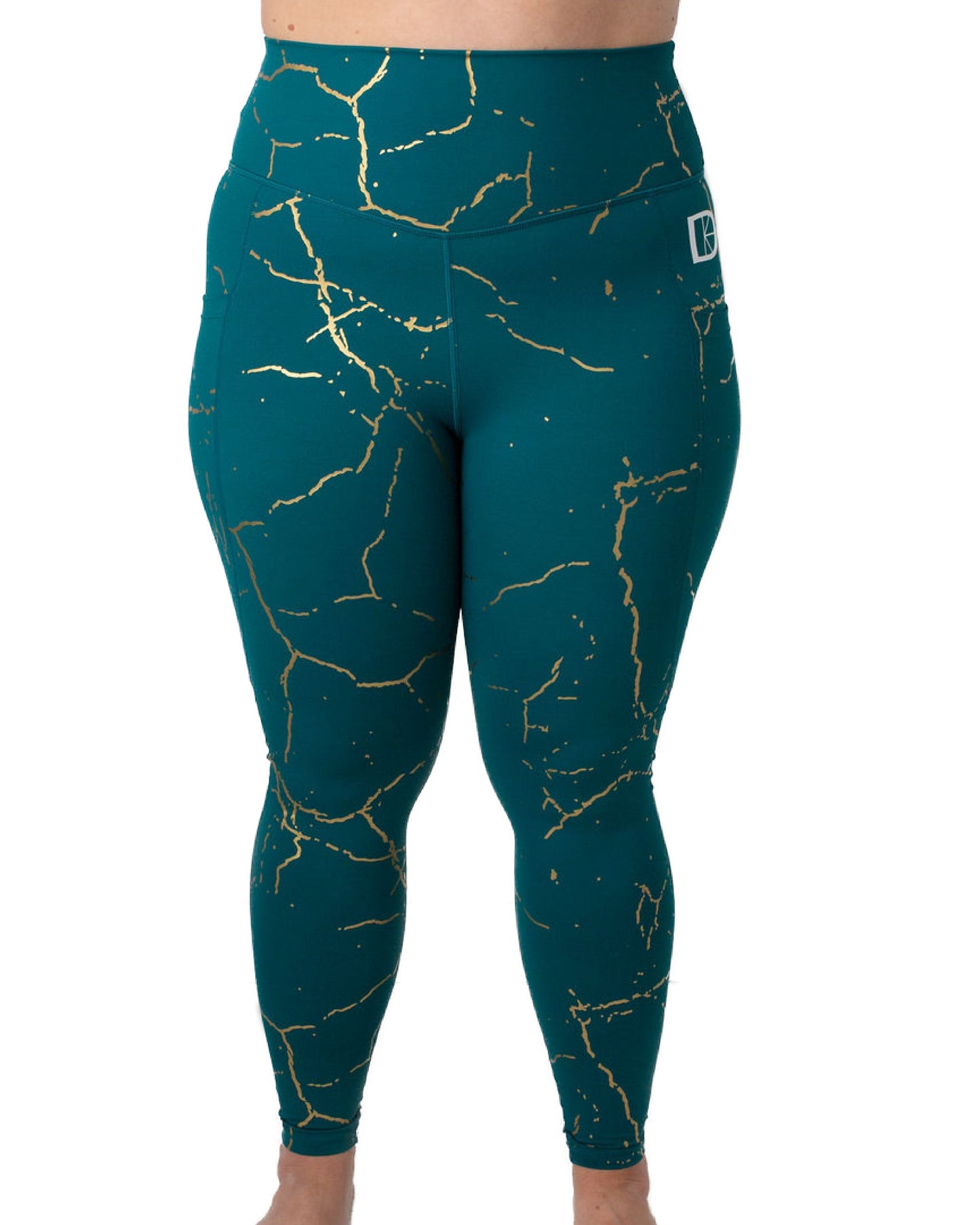 Beautiful leggings
Love the unique colour and pattern. Super comfy and make me feel really good postpartum.
Fab leggings!
I'm 5 months PP and these fit lovely! I wanted some leggings that were higher waist and squat proof…these definitely fit the bill and the pattern is lovely too!
Best leggings ever!!!
They are comfortable and stretchy and never ever ever ride up or down and I might be a little bit in love with them. And they sparkle!
Epic leggings
I am now 7 months postpartum - and yet here I am still buying these leggings. Why? Because they're the best.
They're comfy, high waisted, supportive and 100% squatproof.
I also took a tumble on concrete in these bad boys, and they didn't rip - but I don't recommend you try this. But I do recommend you try these leggings.
Best leggings - absolutely squat proof
Where do I start? 5 stars isn't enough! I've too many good things to say, so I'll list them for ease.
1) They keep my belly in
2) they look amazing
3) I did 750 squats for a squat challenge and they absolutely held up
4) the pockets are huge and so useful
5) they're very flattering over all, and I finally feel more myself again after giving birth
6) they don't show your underwear pattern underneath like some do
7) they're just generally the best quality leggings I've ever owned
I've absolutely no negative thing to say about these at all. I love them so much, I ordered another pair in a different design because I will be living in them.