Maternity & Nursing Sports Bra | B-G Cup | Marble Print
Regular price
£40.00 GBP
Sale price
£40.00 GBP
Unit price
per
Sale
Sold out
To get the right fit we recommend measuring your rib cage in inches and selecting the size closest to this. If over 20wks pregnant subtract 2inches. More information is under the "Sizing" tab below.
Featuring a monochrome marble print and solid-black trims, this non-wired sports bra will support you to stay active and feel confident through pregnancy, breastfeeding and beyond.

When you're pregnant, it's not just your bump that grows! Your boobs may go through many size changes too, while your rib cage will expand to make room for your baby. It's all part of the miracle that is growing a tiny human, but it makes it tricky to know what bra size to buy. It can be even more difficult if you want to continue exercising – and you need a comfortable, bounce-minimising fit now more than ever.
Enter our award-winning maternity sports bra! Designed to be worn from 12-weeks pregnant, it's crafted in sweat-wicking fabric with four-way stretch for a supportive fit that adapts to changes in your cup size. A coordinating back extender, discreet nursing clips and convertible straps give you all the versatility you need to wear it as your everyday bra, for high-impact sports, for breastfeeding and long after you've finished nursing. Many customers tell us it remains their go-to even when their babies are no longer babies!

We're so proud that this Maternity & Nursing Sports Bra won a PLATINUM award in the 'Best Breastfeeding Top' category of the Loved By Parents awards 2022 and Latched was awarded 'Best Maternity Activewear' in the 2022 Project Baby awards.
Why mamas love it
Discreet clips
Our trademarked clips are super simple to use and can be opened with one hand (essential when you're dealing with a hungry, wriggly baby!). They're also so discreet, no one would ever guess your sports bra doubles up as a nursing bra! 
No underwires
While it's perfectly safe to wear a well-fitting underwired bra during pregnancy, many women find underwires dig in and become uncomfortable. All our maternity sports bras are non-wired.
Adaptive cups
Our dynamic fabric delivers four-way stretch, so the cups will adapt to your changing size while you're pregnant and breastfeeding (your cup size may still fluctuate alongside your milk supply). Removable pads give you extra flexibility and a smooth silhouette.
Back extenders
A coordinating back extender allows you to alter the length of the band as your rib cage expands and then contracts again post-pregnancy.
Convertible straps
Heading to a HIIT class? Off for a run? Want to avoid visible bra straps? We've added a clever hook-and-eye detail that converts the straps from straight to racerback, giving you extra support for high-impact activities. And the best bit is, you don't even need to take the bra off (if you've ever struggled to get a racerback sports bra on, you'll know this is a complete game-changer!).
At a glance
🖤 73% polyester, 27% spandex
🖤 Marble print with black trims
🖤 Sweat-wicking fabric with four-way stretch
🖤 Non-wired drop-down cups with removable pads
🖤 Soft inner A-frame for support while feeding
🖤 Anti-roll band trimmed with a signature badge
🖤 Three hook-and-eye fastenings
🖤 Coordinating back extender for more adjustability
🖤 Discreet one-handed nursing clips for speedy feeding
🖤 Instantly converts to racerback for high-impact activities
🖤 Suitable for cup sizes B–G and back sizes 28–40
Sizing

If you do not know your sizing and do not have time to measure yourself properly as a minimum we recommend measuring your rib cage snugly in inches. It's estimated 90% of women are wearing the wrong bra size due to the old +4 system. As an example it is highly unlikely someone who is a size 10 will be a 34 inch rib. Natalie, the mum behind Latched, is a UK size 12-14 and wears a 34F so the Latched Medium is the perfect fit.

Our maternity and nursing bras are designed to adapt to the needs of your changing body, as opposed to you having to change your bra constantly! You don't need to size up or try and guess what size you'll need in a few weeks time.

Need some personalised fitting advice? We're here to help.
Washing & Care

Machine wash at a cold temperature. We recommend using a mesh bag to avoid damage to your bra and drum! Not suitable for tumble drying.
Delivery & Returns

We process all orders within two to three days, unless you've chosen an item on pre-order.

We offer FREE standard delivery on all orders over £75.

Our UK delivery prices and estimated timescales following dispatch are as follows:

Standard (Royal Mail Tracked 48) – £4.75 – two to four working days

Express (Royal Mail Tracked 24) – £7.50 – one working days

Our international delivery prices and estimated timescales following dispatch are as follows:

Europe: Import charges included.

Express £22 – two to three days.
Standard: £12 - up to 14 days.

Rest of World: Additional import charges may apply. 

Express £35 – two to three days.
Standard £18 - up to 14 days.

Returns

We understand that online shopping can be tricky, especially with a changing body. You have 45 days to return your order, provided it's in an unused condition with the tags still attached and its original packaging. Read our full returns policy here.
Share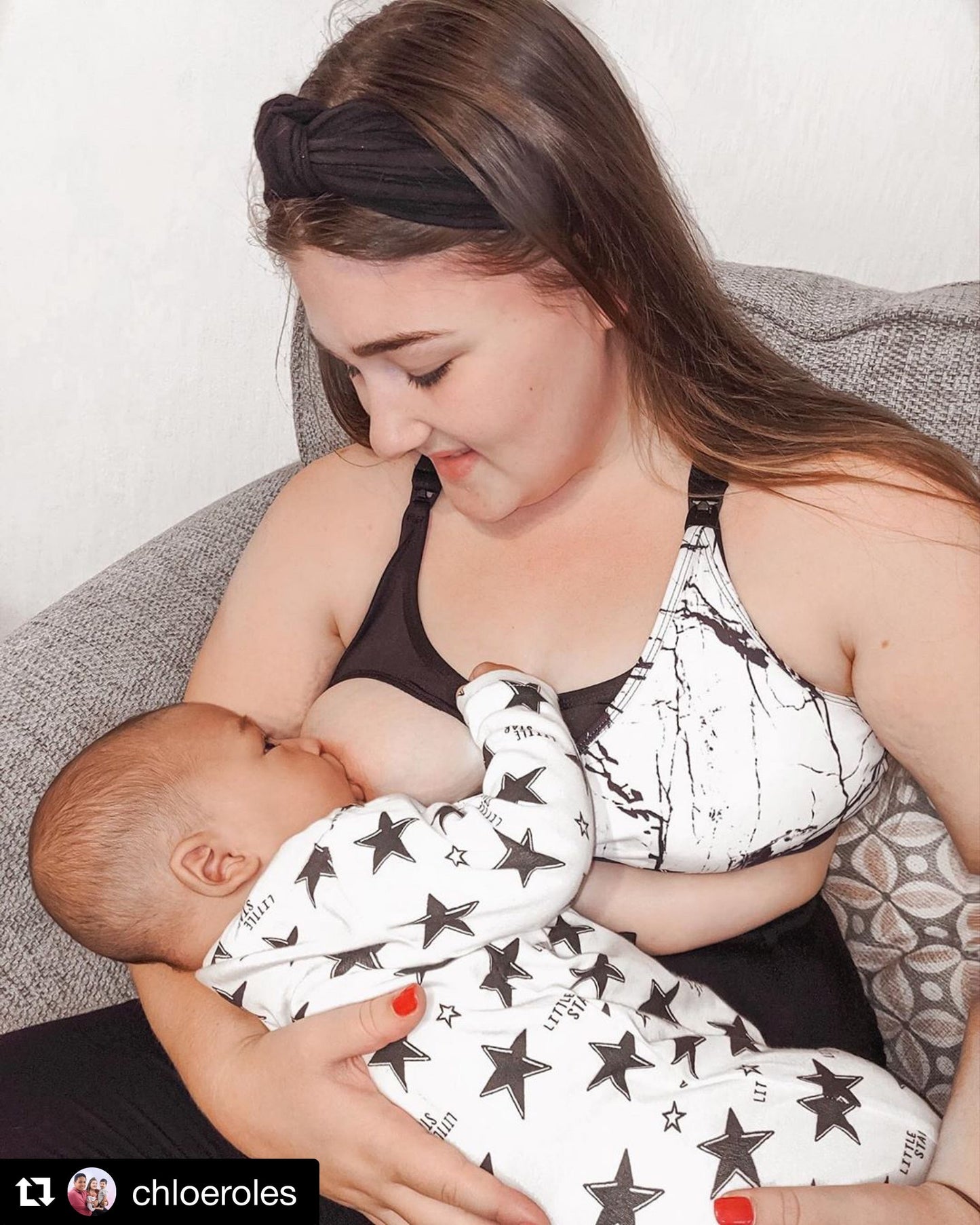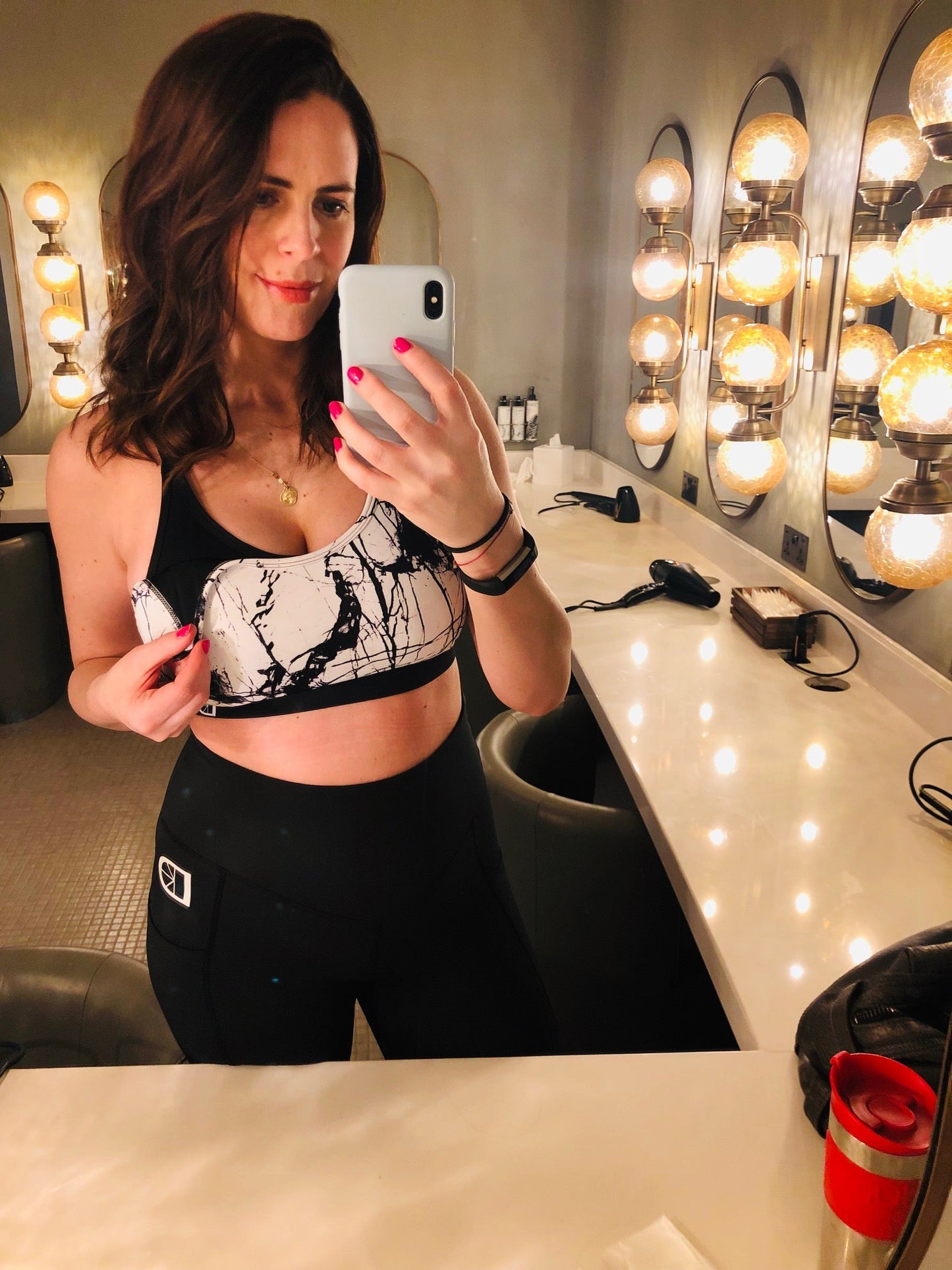 Good bra, squeaky though
I really like latched leggings so decided to try their nursing bra. The fit is good, the fabric comfortable, the clasp in the back that makes the bra a razorback squeaks when you move which is slightly annoying. Additionally, I've found the clasps to be quite hard to use one handed.
Disappointing
I was so excited to find this company as there is a huge gap in the market for sports nursing bras. Or nursing bras with any kind of support that allows you to run after your toddler! But the one with the correct waist size was way too small on the cup and the one that was a better cup since was enormous at the waist. It feels like yet another instance of companies only catering to the 'normal' size or 'right' shape. It was hugely disappointing especially as this company seemed to promise so much.
I just received this sports bra and had to write a review right away! This is the most comfortable and beautiful sports bra ever: I just started a workout class that I bring my baby along to and I needed something I could breastfeed in that also offered great support...this is it! So easy to feed in and just the best quality material.
Game changer!
Saw Latched at a baby and toddler show - great timing as I had just 'grown out' of my pre-pregnancy sports bra. This is SO comfortable, I'd happily wear it all day! Haven't done any high impact training but it's supported me through resistance training, yoga, and spin, and I've had no discomfort at all. Almost forget I'm wearing it. Will be buying another asap!
Might be the best sports bra I've ever brought
Was really unsure what to do about maternity sports bras and then the answer was found, through a clip in the back! It makes so much difference!! It is a little squeaky but it's worth it for the support.
Maternity, Breastfeeding and Postnatal Activewear
Pair with leggings

Our maternity and postnatal leggings are designed to adapt to your ever changing body. Dropped seams, 2 pockets and mild compression to aid with restless legs, hip pain and varocase veins.

Add a Breastfeeding Jumper / Hoodie

Nursing through the autumn and winter can be challenging. Team our breastfeeding sports bras with a jumper or nursing hoodie for the perfect combo

Breastfeeding and exercise

Breastfeeding mothers benefit significantly both mentally and physically from moderate exercise. It has no impact on breast milk's volume, composition, or flavour. Here's what you should know about working out while breastfeeding.